---
ORGANIZE ACCESSORIES AND CHARGE CONTROLLERS & JOY-CON'S
Our Nintendo Switch Vertical Charging Stand™ will charge your Pro Controllers & Joy-Cons while storing all of your Nintendo Switch accessories in one place.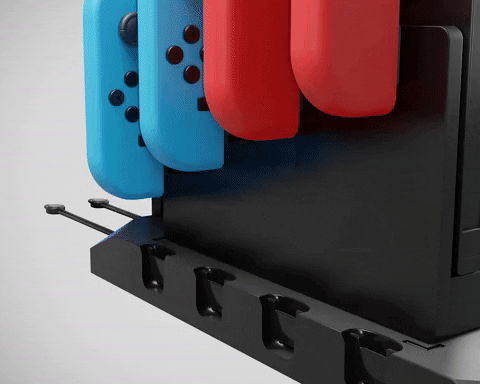 THE ULTIMATE 9 IN 1 STAND
WITH MANY FEATURES ADDED TO THIS DESIGN, YOU WILL BE ABLE TO DO IT ALL WITH THIS STAND.
SIMPLE, COMPACT AND AWESOME
Our simple yet useful design allows you to nicely organize and charge your accessories without having to charge everything separately with wires all over the place. The GamerPro Vertical Charging Stand™ is simply plug and play. This stand is simple yet effective. Kids love to return their items where they belong when they have a useful stand like ours. Our headset pole doubles down as a Nintendo Switch Case holder as well. This Stand makes it easy and convenient to switch through physical games. If you buy digital, this stand still comes in handy for the rapid charging capabilities and all other features it brings.
FEATURES:
Sturdy Flat Design
2 USB Ports
4 Joy-Con Charging Slots
2 Joy-Con Strap Slots
Headset Pole
2 Pro Controller Charging Slots
7 Game Case Slots
Nintendo Switch Cooling Fan
A PokeBall Holder
BENEFITS: 
✔Faster charging
✔Remove risk of losing items

✔Store 7 games

✔Improves organization
✔Improves Switch dock's balance
✔Houses Switch, games, controllers and Poke-ball
✔Kid & pet friendly
✔Tower pole holds headset or carrying case
✔Keeps everything neat and ready to use
What's Included:
Vertical Stand

Headset Pole
Cooling Stand Attachment
USB Type C connectors
FAQ:
Q: Will this charge my Nintendo Switch as well? 
A: Yes, your Nintendo Switch connects to the stand and is the main power source which will in turn charge everything including the Switch itself. 
Q: Will the Switch play in TV mode while docked on this stand? 
A: Yes, your switch will play normally on your TV as it would without being on the stand.
Q: Will the 2 USB ports in the front connect my controllers to the Switch?
A: Yes, it will be as if you plugged them into the Nintendo Switch itself. 
Q: Is this sold on Amazon?
A: This is currently only sold on our website gamerproofficial.com.
30 DAY RISK-FREE GUARANTEE

Contact our 24/7 Email Support Team for further assistance.
If you don't have a positive experience for any reason, we will do WHATEVER it takes to make sure you are 100% satisfied with your purchase. 
Contact our helpful support within 30 days of receiving your order and we'll refund you.
Yes, it fits the OLED Switch just as good as the regular Nintendo Switch
Yes. For our original BMO, you can run a charger through the back onto the inside. For BMO 2.0, you simply sit your Switch on BMO and it'll charge how a normal dock charges.
Yes, this is possible by using a smaller dock with a long enough cord that can fit through BMO and onto your Switch.
No, BMO is not a third party dock that can damage your Switch. Your Switch is safe and harmless with our BMO.
No, BMO was designed for anyone who'll love a happy companion in their workspace/gaming room.
Yes. Children love our BMO stand. We have a hard time staying in stock from constantly going viral on our Tik Tok with 60% of viewers being children.
Our original BMO functions as a normal stand, where you can sit your Switch on it and play. You can also run a charger through the inside of your BMO to charge your Switch.

Our BMO 2.0 works as a Nintendo Switch dock, you can place your Switch on BMO 2.0 and your gameplay will cast to your TV. This will also charge your Switch without needing to run your own charger through the inside of BMO.