Iced out Bitcoin Pendant & Chain
Proudly wear our famous Iced out Bitcoin Pendant & Chain that was created for digital currency lovers of this era. With an icy appearance, our Icy Bitcoin will give you plenty of modern day fashion. Crypto lovers from around the world will easily recognize you and you will make new friends that share the same passion as you.
The Only Ice You Need
Designed to look good with any style, our Icy Bitcoin chains will give you enough ice to look fresh while showing your appreciation and love towards crypto.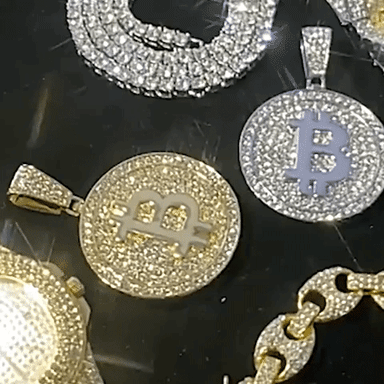 High Quality + American Made

Designed in the U.S, our team gladly put together the perfect Bitcoin piece for any crypto enthusiast to wear.
Choose Your Style & Size
We offer our Icy Bitcoin Chain & Pendants in Silver or gold plated, with the option to choose your chain of choice between Tennis, Rope or Cuban style.
We are offering a limited time sale for 50% OFF