---
Store and charge your Nintendo Switch with cartoon-favorite BMO stand! Designed to store your switch in style and holds additional accessories inside BMO as the stand includes storage space.
Cute, Organized Design
Double Sided Face Plate Now Included 
Hollowed Inside To Use As Storage Space
 Our BMO Switch Stand™ is a fan-favorite adventure time creation that works as a protective sturdy stand to store and charge your Nintendo Switch and accessories anywhere you'd like.
Charge Your Switch on BMO
includes a hole in the back that'll allow you to run a charger to power your Switch while it sits on BMO
Fits Nintendo Switch OLED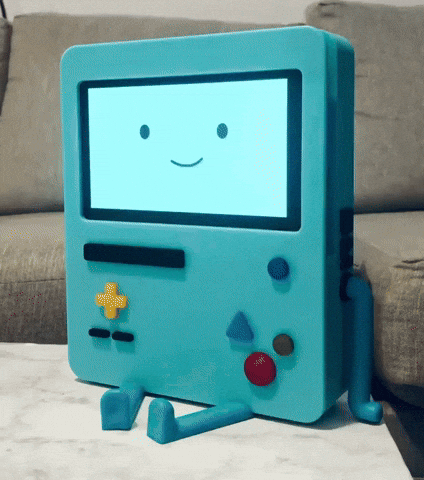 Stream BMO's face from YouTube by searching: GamerPro BMO
 Dimensions: 22x18x5.5cm
All Versions Include:
- Double Sided Face Plate

- BMO Body

- NS + Switch Lite PlaceHolder

- Two BMO Legs

- Two BMO Arms

- Free Virtual Streamable BMO Face


Don't Have a Nintendo Switch Yet? No Problem, Just Let It Sit Adorably Anywhere In Your Home
Yes, it fits the OLED Switch just as good as the regular Nintendo Switch
Yes you can. You can run a charger through BMO and onto your Switch from the back of BMO.
Yes, this is possible by using a smaller dock with a long enough cord that can fit through BMO and onto your Switch.
No, BMO is not a third party dock that can damage your Switch. Your Switch is safe and harmless with our BMO.
No, BMO was designed for anyone who'll love a happy companion in their workspace/gaming room.
Yes. Children love our BMO stand. We have a hard time staying in stock from constantly going viral on our Tik Tok with 60% of viewers being children.