---
Store and charge your Nintendo Switch with cartoon-favorite BMO stand! Designed to store your switch in a stylish home while displaying your gameplay onto your TV screen if you order BMO 2.0
Cute, Organized Design


The moment we've all been waiting for. BMO 2.0 grants you the ability to effortlessly cast your Switch gameplay on your television, just like a standard Switch dock does. Not only does your Switch now have a charming and stylish home to rest upon, but it also grants you the freedom to conveniently charge your device while seamlessly displaying your gameplay onto the TV screen.

Charge Your Switch on BMO
Includes a hole in the back that'll allow you to run a charger to power your Switch while it sits on our Original BMO Stand, or simply sit your Switch to charge and display gameplay to your TV if you order BMO 2.0.
Also Fits Switch OLED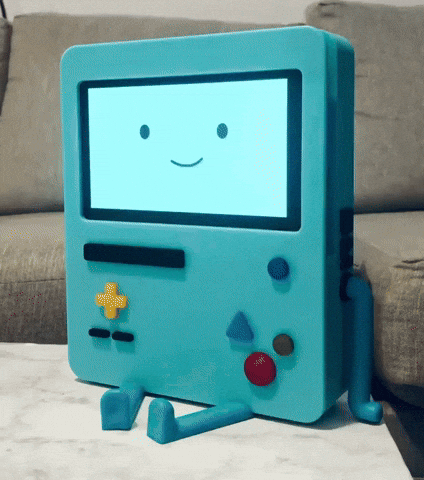 Stream BMO's face from YouTube by searching: GamerPro BMO
 Dimensions: 22x18x5.5cm
All Versions Include:


Don't Have a Nintendo Switch Yet? No Problem, Just Let It Sit Adorably Anywhere In Your Home
---
Make Gaming Fun with our SwitchSpin Pro


Elevate your Nintendo Switch gaming experience with the SwitchSpin Max, the pinnacle of game card organization and convenience. Designed with innovation and functionality in mind, this dynamic 10-slot rotating game card carousel takes your game storage to the next level.
Effortless Access, Effortless Fun: Say goodbye to fumbling through stacks of game cards. The SwitchSpin Max's 360° rotation mechanism ensures easy access to all your favorite Nintendo Switch, Switch Lite, and OLED game cards. Simply spin the carousel to find and select your desired game with a quick glance.
Optimal Space Utilization: Maximize your space with style. The SwitchSpin Max elegantly organizes up to 10 game cards in a compact footprint, making it perfect for home setups, travel, and on-the-go gaming. Its sleek design complements your gaming station while keeping your game collection within arm's reach.
Premium Protection: Your game cards deserve the best, and the SwitchSpin Max delivers. Each slot features a secure, snug fit that prevents jostling, scratches, and damage. The durable construction ensures your valuable game cards are well-protected whether you're at home or on the move.
Versatile Compatibility: Whether you're a Nintendo Switch, Switch Lite, or OLED user, the SwitchSpin Max caters to all. Its universal design accommodates game cards for different Switch console models, ensuring a seamless fit for your gaming library.
Sleek Aesthetics: The SwitchSpin Max isn't just functional; it's a statement piece for your gaming setup. Its modern design and high-quality materials make it a stylish addition to any gaming space. Showcase your collection while keeping it organized and accessible.
Features:
10-slot rotating carousel for easy game card access
Universally compatible with Nintendo Switch, Switch Lite, and OLED models
Compact design maximizes space utilization
Secure fit in each slot prevents damage to game cards
Durable construction ensures long-lasting protection
Modern and stylish aesthetics complement your gaming setup
Customer Reviews: "The SwitchSpin Max has revolutionized the way I organize my game cards. It's so convenient to access any game with a simple spin!" - John G. "I love how compact yet spacious the SwitchSpin Max is. It keeps my game cards safe and looks great on my gaming shelf." - Emily R. "A must-have for any Switch gamer. It's like a mini game store right on my desk!" - Mark T.
Upgrade your game storage game with the SwitchSpin Pro. Transform the way you access, protect, and display your Nintendo Switch game cards. Elevate your gaming setup today and experience the convenience of effortless game selection with the ultimate rotating game card carousel.
---
Keep Your Nintendo Switch Dock Clean and Shiny


Introducing our crystal clear Acrylic dock cover - Dock Cover Pro™ the perfect accessory for Nintendo Switch and Switch OLED model users. This cover is specifically designed to fit your docked Switch and keep it dust-free, making your gaming area look top-notch.
Our cover fits with room to spare over your Switch, including the joycons, providing ultimate protection against dust and scratches. The sturdy and durable material ensures that your dock stays safe from any accidental bumps or drops.
Our dock cover features a useful cutout that allows cables to exit the dock with ease, while keeping the rest of the device covered. This means that you can conveniently charge your Switch while it remains protected.
The cover is incredibly easy to clean, simply use a cleaning cloth to wipe it down and keep it looking shiny and new. Please note, there is a firm protective layer that needs to be peeled before use to ensure optimal clarity.
Experience the convenience and protection of our crystal clear Acrylic dock cover - the must-have accessory for all Nintendo Switch and New Nintendo Switch OLED model users.

dimensions 10.04' x 5.2' x 2.56

---
---