---
Store and charge your Nintendo Switch with cartoon-favorite BMO stand! Designed to store your switch in a stylish home while displaying your gameplay onto your TV screen if you order BMO 2.0
Cute, Organized Design


The moment we've all been waiting for. BMO 2.0 grants you the ability to effortlessly cast your Switch gameplay on your television, just like a standard Switch dock does. Not only does your Switch now have a charming and stylish home to rest upon, but it also grants you the freedom to conveniently charge your device while seamlessly displaying your gameplay onto the TV screen.

Charge Your Switch on BMO
Includes a hole in the back that'll allow you to run a charger to power your Switch while it sits on our Original BMO Stand, or simply sit your Switch to charge and display gameplay to your TV if you order BMO 2.0.
Also Fits Switch OLED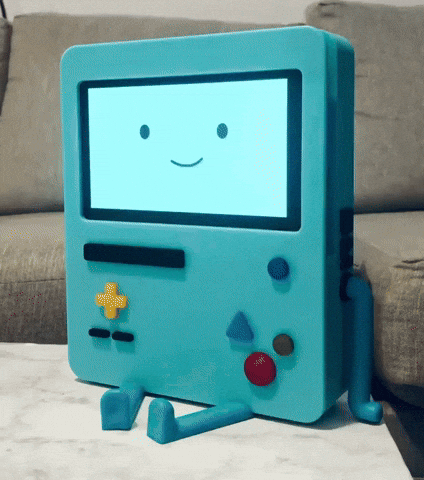 Stream BMO's face from YouTube by searching: GamerPro BMO
 Dimensions: 22x18x5.5cm
All Versions Include:


Don't Have a Nintendo Switch Yet? No Problem, Just Let It Sit Adorably Anywhere In Your Home
Yes, it fits the OLED Switch just as good as the regular Nintendo Switch
Yes. For our original BMO, you can run a charger through the back onto the inside. For BMO 2.0, you simply sit your Switch on BMO and it'll charge how a normal dock charges.
Yes, this is possible by using a smaller dock with a long enough cord that can fit through BMO and onto your Switch.
No, BMO is not a third party dock that can damage your Switch. Your Switch is safe and harmless with our BMO.
No, BMO was designed for anyone who'll love a happy companion in their workspace/gaming room.
Yes. Children love our BMO stand. We have a hard time staying in stock from constantly going viral on our Tik Tok with 60% of viewers being children.
Our original BMO functions as a normal stand, where you can sit your Switch on it and play. You can also run a charger through the inside of your BMO to charge your Switch.

Our BMO 2.0 works as a Nintendo Switch dock, you can place your Switch on BMO 2.0 and your gameplay will cast to your TV. This will also charge your Switch without needing to run your own charger through the inside of BMO.