---
Store Accessories While Charging Controllers And Joy-Con's
Our Nintendo Switch Charging Storage Stand™ will charge your Pro Controllers, Joy-Con's and PokéBalls while storing additional accessories in a nice and organized setup.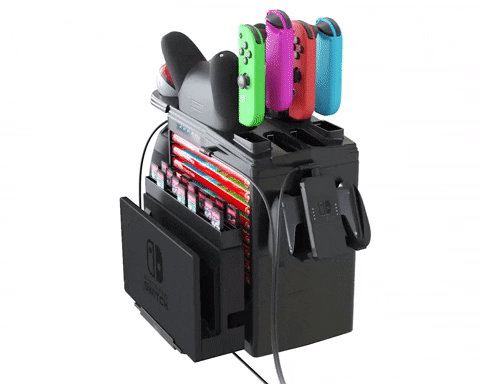 LED Charging Indication
Our Charging Stand
™

 makes it simple to store your entire setup

 
Simultaneously charge your controllers and Joy-Con's to remain ready to play
Our Charging Storage Stand is amongst the best accessories you could get for your Nintendo Switch right now. Our Stand might look extreme at first and that's because it does so much for you and your Nintendo Switch. This accessory will be common for the years to come, as it will always charge Nintendo Type-C controllers, Joy-Con's and Poke Ball's.
Our Charging Stand allows you to store 8 games, which we keep our go-to games stored on ours. This makes it easy and convenient to switch through physical games. If you buy digital, this stand still comes in useful for the rapid charging capabilities it brings.
Benefits Of Our Charging Stand
✔Faster charging
✔Remove risk of losing items

✔Store 8 games

✔Improves organization
✔Improves Switch dock's balance
✔Houses Switch, games, controllers and Poke-balls
FEATURES
4 Joy-Con Charging Slots
2 Pro Controller Charging Slots
Store up to 8 Game Cases
2 Additional Controller Hangers
Removable Pokeball Holder
Slidable Bottom For Switch Dock
Sturdy And Compact Design
6 Charging Indication Lights
30 DAY RISK-FREE GUARANTEE

Contact our 24/7 Email Support Team for further assistance.
If you don't have a positive experience for any reason, we will do WHATEVER it takes to make sure you are 100% satisfied with your purchase. 
Contact our helpful support within 30 days of receiving your order and we'll refund you.

Yes, it fits the OLED Switch just as good as the regular Nintendo Switch
Yes you can. You can run a charger through BMO and onto your Switch from the back of BMO.
Yes, this is possible by using a smaller dock with a long enough cord that can fit through BMO and onto your Switch.
No, BMO is not a third party dock that can damage your Switch. Your Switch is safe and harmless with our BMO.
No, BMO was designed for anyone who'll love a happy companion in their workspace/gaming room.
Yes. Children love our BMO stand. We have a hard time staying in stock from constantly going viral on our Tik Tok with 60% of viewers being children.