---
Organize And Store Your Nintendo Switch
The Nintendo Switch Storage Stand™ is designed by GamerPro as a convenient solution for messy, unorganized Nintendo Switch setups.
Dock Support Prevents Switch From Falling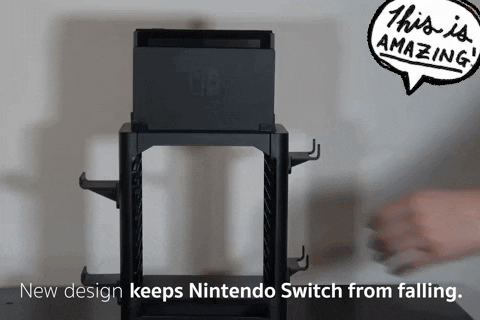 Our Storage Stand features a cabinet at the bottom to store additional accessories.
Easily store your controllers, games and 

Nintendo Switch dock together

Ideal for multiple accessories. Quickly find your preferred game or controller with an organized setup.

 
Our Storage Stand is one of the most popular accessories you could get right now for the Nintendo Switch. This accessory allows you to store your top 10 games which makes it easy and convenient to switch between games. Our stand takes up less space than the individual components. You will have a better organized setup with the accessories you already use. This stand also holds the Switch dock in place to prevent it from tipping over.
Our Storage Stand is one of the most useful products out right now, which is why we created it in hopes of giving you a better organized setup, and it seems to be doing perfect. 
Benefits Of Our Stand
✔Removes risk of losing items 
✔Easier to organize setup
✔Easier to find games/accessories
✔Takes less space than individual components do
✔Improves cleanliness and appearance
✔Improves Switch Dock's balance
FEATURES
Dock Support - 6.8 inch slot to hold dock in place
Easy to Assemble - 9 easy to assemble pieces
Supports up to 10 Game Cases - Store 10 physical Nintendo Switch cases
Sturdy to Withstand Weight - Compact and sturdy to ensure stillness
Includes 4 Multi-functional hooks - Store 4 controllers or cords
Features Additional Cabinet - 6.8 x 4.5 inch cabinet
Frequently Asked Questions
➤Will my Switch tip over easily? 
No, it is wide enough to hold in place and features slot support for the Switch and dock.
➤Does this hold GameCube controllers?
Yes.
➤What if I have more than 10 games?
You can store your top 10 favorite games, or purchase 2 like some customers have.
➤Do you have a stand that charges controllers?
Yes we do, select our menu "Stands" and visit our Charging Storage Stand.
➤Does the top support block the Switch dock's USB port or cables?
All cables can freely be connected while the dock is held in place.
30 DAY RISK-FREE GUARANTEE
If you don't have a positive experience for any reason, we will do WHATEVER it takes to make sure you are 100% satisfied with your purchase. 
Contact our helpful support within 30 days of receiving your order and we'll refund you.
We Pay Shipping! 
Yes, it fits the OLED Switch just as good as the regular Nintendo Switch
Yes. For our original BMO, you can run a charger through the back onto the inside. For BMO 2.0, you simply sit your Switch on BMO and it'll charge how a normal dock charges.
Yes, this is possible by using a smaller dock with a long enough cord that can fit through BMO and onto your Switch.
No, BMO is not a third party dock that can damage your Switch. Your Switch is safe and harmless with our BMO.
No, BMO was designed for anyone who'll love a happy companion in their workspace/gaming room.
Yes. Children love our BMO stand. We have a hard time staying in stock from constantly going viral on our Tik Tok with 60% of viewers being children.
Our original BMO functions as a normal stand, where you can sit your Switch on it and play. You can also run a charger through the inside of your BMO to charge your Switch.

Our BMO 2.0 works as a Nintendo Switch dock, you can place your Switch on BMO 2.0 and your gameplay will cast to your TV. This will also charge your Switch without needing to run your own charger through the inside of BMO.